The Monitor & Toyotomi Difference
Direct Heated Venting Systems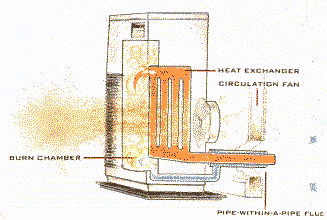 Common "CENTS" Solutions to Home Energy Problems
Monitor and Toyotomi's sealed combustion systems prevents the main cause of inefficiency-infiltration. Because both use outside air for combustion, no cold outside air is drawn into the house as drafts. This heats your home more efficiently and saves you money at the same time.
Clean and Safe

All units are either UI, AGA or CGA approved
Features a sealed combustion system
Electronic ignition
No pilot or exposed flame

Easy Installation

Installs in 2-4 hours
Uses a unique pipe within a pipe venting system
No chimney or ductwork required
No special construction, electrical or plumbing requirements

Convenient and Easy to Use

Manual or automatic operation
Thermostatically controlled
Shows actual room temperature
Variety of sizes
– 14,000-40,000 BTUs
– 200-2,000 square feet

Efficient and Economical

High burner efficiency
– 93% kerosene (K1)
– 84% natural or LP gas
Very little fuel usage allows you to purchase your yearly fuel at a low-season price
Uses outside air for combustion
Feel free to browse through our Monitor and Toyotomi product selections to see which heater is right for you.